The COVID-19 pandemic has changed so much about how we interact with each other, and how we interact with each other while nature volunteering is no exception. Many volunteer events were cancelled in 2020 after social distancing guidelines went into effect in March. By the summer, a few events returned, but at a lower capacity than in previous years.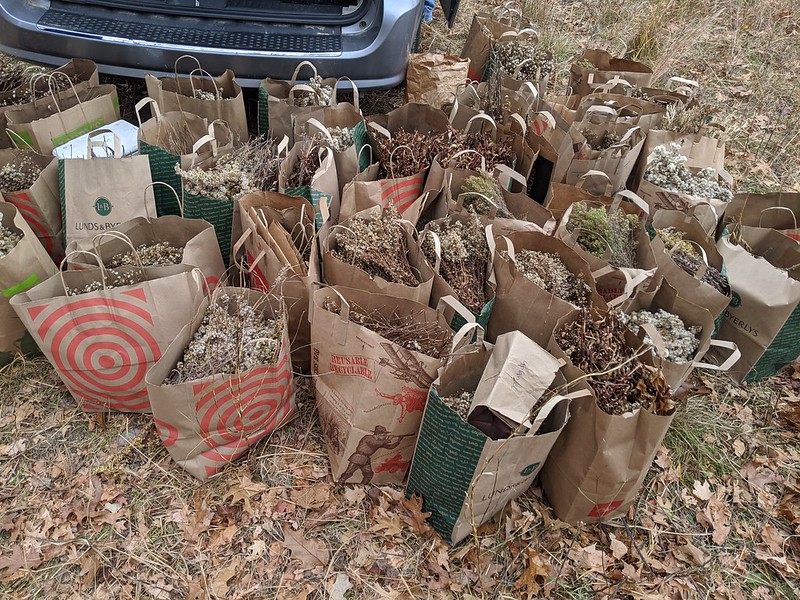 The Minnesota master naturalist program was very kind about the difficulty of finding volunteer opportunities, given that so many were canceled. Anyone who recorded any volunteer hours in 2020 will receive a service pin, rather than the required 40 hours of volunteering plus 8 hours of advanced training in typical years.
It was a good year to spend time in nature — but individually, not in groups. Fortunately for me, my volunteer gig with the Big River Big Woods chapter of Wild Ones is essentially a solo endeavor, anyway. I post several-times-a-week updates on the Big River Big Woods Instagram feed, documenting what's happening in gardens, parks, and wild spaces throughout the year.
Most of the photos I post on this Instagram feed are from my own garden, or from my hikes in the Twin Cities metro area, but I also post photos from other members from time to time. I especially appreciated that option when I broke my foot in early May and couldn't easily get outside to see what was blooming!
In 2020, I posted 228 photos on this Instagram account. To make time-tracking easy, I count each post as 15 minutes. Some posts are short (just a sentence for a caption) and quick to do when the flower is in my own yard. Other posts are longer and take some time to research, not to mention travel time to parks. In the end, I'm undercounting by using that average, but I'm not worried because that many posts added up to 57 volunteer hours with just this one activity! Here are the three posts with the most likes:
In January, to help promote the annual Big River Big Woods winter seed planting event, I created a "name that seed" campaign. Each day leading up to the event, I posted a photo of a plant's seeds, and invited people to swipe the photo to see the flower in bloom or scroll down to see the scientific and common names in the caption.
Planning this campaign and photographing the seeds was a lot of fun. It even evolved into a live guessing game during the seed planting event!
I also added an "invasive plant of the week" campaign, showing a flower that was blooming at that time, and describing why it's a problem.
Besides these educational Instagram posts, I found some other opportunities to log volunteer time, too: some before the lockdowns, and some afterward but on my own.
Winter tracking survey: In January, about 30 people gathered at Cedar Creek Ecosystem Science Reserve for their annual winter animal tracking event. My group (by chance, made up of four master naturalist volunteers) headed to a small lake, where we found wolf tracks, as well as coyote and fox prints along the trail. Another group investigated a deer that had recently been killed by a wolf and found signs that a fox, a fisher, and birds had been scavenging on the carcass. The third group went to an open field and found tracks of coyote, vole, mink, and several fishers. All three groups found plenty of evidence of deer: many well-worn deer trails, along with areas where they had rested, and areas where they had scavenged for acorns. In all, 15 species were recorded. Here are two of the master naturalist volunteers studying the wolf tracks on the frozen lake:
Snow seeding (native prairie plants and grasses) in the woods for the City of Roseville:
Snow seeding wildflowers and grasses with the Lower Phalen Creek Project at Bruce Vento Nature Sanctuary:
Roseville parks: Stacking pre-cut Siberian Ash trees into wood storage boxes near fire pits at Central Park. It was March 14, two days before the city closed public facilities due to COVID-19. People were leery about what we were about to head into.
Spring tracking survey: Two-day tracking survey of the Minnesota Wildlife Tracking Project that got moved to the Carlos Avery Wildlife Management Area after the Cedar Creek spring survey was cancelled due to COVID-19. It was modified to a do-it-yourself survey, rather than the typical group activity. We went to one entry point on Saturday and another entry point on Sunday. Highlight of the first day was recording many frog calls, and the following day we not only heard but also saw the frogs in a wetland closer to the trail. Plus this canine scat:
Pulling invasive garlic mustard at Reservoir Woods (which needs a lot of help with this problem):
City Nature Challenge, a competition among cities all across the world. People go outside and take photos of life forms, living or dead. Could be a flower, a mammal, a feather, a print in mud, a skeleton, scat — any evidence that something is or was there. The photos are then uploaded to iNaturalist, with date and time, location, and any categorization the photographer knows (even if it's just "tree").
A second part of the challenge is identifying the photos, and anyone can take part in that, even if they didn't take any photos. This event is usually a friendly challenge to see which city can record the most verified observations, but in 2020 it turned into a friendly collaboration due to the pandemic.
Ask me to go out to parks and take photos of everything I see? I'll do that every chance I get. For the 2020 challenge, I took two days and visited two Twin Cities area regional parks each day. I also did a bit of identifying for other local observations.
(Save the dates for the 2021 City Nature Challenge: take photos from April 30-May 3, and ID from May 4-9.)
Weeding the children's pollinator garden at the Roseville library, one of the Big River Big Woods chapter's projects. I've unofficially claimed removing the invasive species birdsfoot trefoil as my personal project. Here's a before-and-after of one of the walking paths; note the lack of yellow in the second photo:
The DNR's Scientific and Natural Areas program held several bioblitzes during 2020. A bioblitz is very similar to the City Nature Challenge, only with a designated location. The SNA program uses information submitted during a bioblitz to expand its species lists. I happened to be relatively close to La Salle Lake SNA during its late-August bioblitz, so I headed over to see what I could find. In this case, I was one of 9 people who made 850 observations of more than 300 species. Note that in a bioblitz, all species are recorded, whether invasive (like the thistles below) or native (like the blazingstar).
Seed collecting at Crow-Hassan Park Reserve for Three Rivers Parks: Gathered stiff goldenrod, showy goldenrod, and assorted asters. (Staff realize that asters are hard enough to tell apart when they're blooming, let alone when they're in seed, so we got to collect them all without worrying about sorting by species.)
And finally, I helped the master naturalist program's Instagram account a few times too, contributing photos and text for three posts:
Are you a Minnesota master naturalist volunteer, too? Program leaders are always looking to share stories of how we're volunteering and what we're seeing. Contact master naturalist staff to share nature photos from your own adventures.
All of these activities added up to 85.75 service hours, just under my personal record set in 2019. The travel time was less than half, no surprise due to fewer in-person volunteer activities.
Previous volunteer recaps